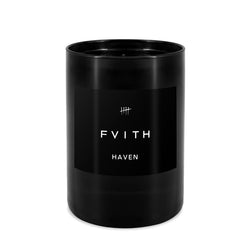 Fvith
HAVEN CANDLE
Make your space the ultimate refuge with a scent that lightens stale air with the cleansing powers of citrus paradisi. It's time your haven meets ours. Haven is a fresh blend of pink grapefruit, white grapefruit, Himalayan pink salt and pink pepper. Walls and ceilings are no match for its sunshine. It burns bright here.



Top Notes
Pink Grapefruit

Mid Notes
Himalayan Pink Salt, Pink Pepper

Base Notes
White Grapefruit

240G 8.5OZ
*Approximate Burn Time - 55 Hours.
EACH FVITH CANDLE IS HAND-POURED IN LOS ANGELES AND IS COMPOSED OF A UNIQUE SOY WAX AND CUSTOM FRAGRANCE BLEND.
___________________________
Note: Due to packaging changes, you may receive white or black branding when you order this product. Thank you for your patience while we transition to our new look!